1. Visit "https://dm.huobi.me", click "Contract".【Don't have Huobi DM account yet? Please check>>>】

2. The system will prompt you to open contract trading service when you log into Huobi DM for the first time.
3. Users need to complete Risk Verification first when open trading permission【For ID verification,please check>>>】. After approved the verification【For risk verification, please check>>>】, click "Next step". Read through the user agreement, accept and submit the agreement. Then, you'll come to the Quiz page, answering the questions and submit your answers. Finished all the three steps, users will get access to Huobi DM and start trading.
4. After opening trading permission, users can find "Transfer" button below the candle graph around the right corner (or click the "Assets" button (on the top of the home page), turning into assets page and finding "Transfer" button here). If you do not have assets in your wallet, please click "buy coins" button, turning to Huobi OTC. 【How to buy cryptocurrencies?>>>】

5. The transfer window will pop up, where users can transfer assets from "Exchange Account" to "Contract Account" by entering quantity and selecting corresponding digital currency (like BTC or ETH). The final step is to click "Confirm".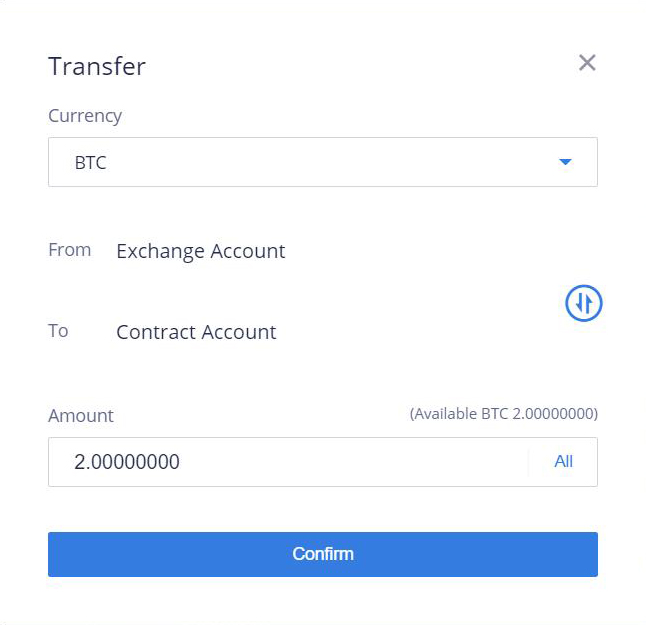 *Notice: Currently, only spot accounts and futures accounts mutual transferring is available.
6. After transferring, users can find the total assets and account equity around the left corner on the top of the home page. After then, users can start to trade on Huobi DM (if users want to hide their account assets and equity, please click the "eye" icon).

7. Please select the contract types you want to invest, for example, BTC weekly contract.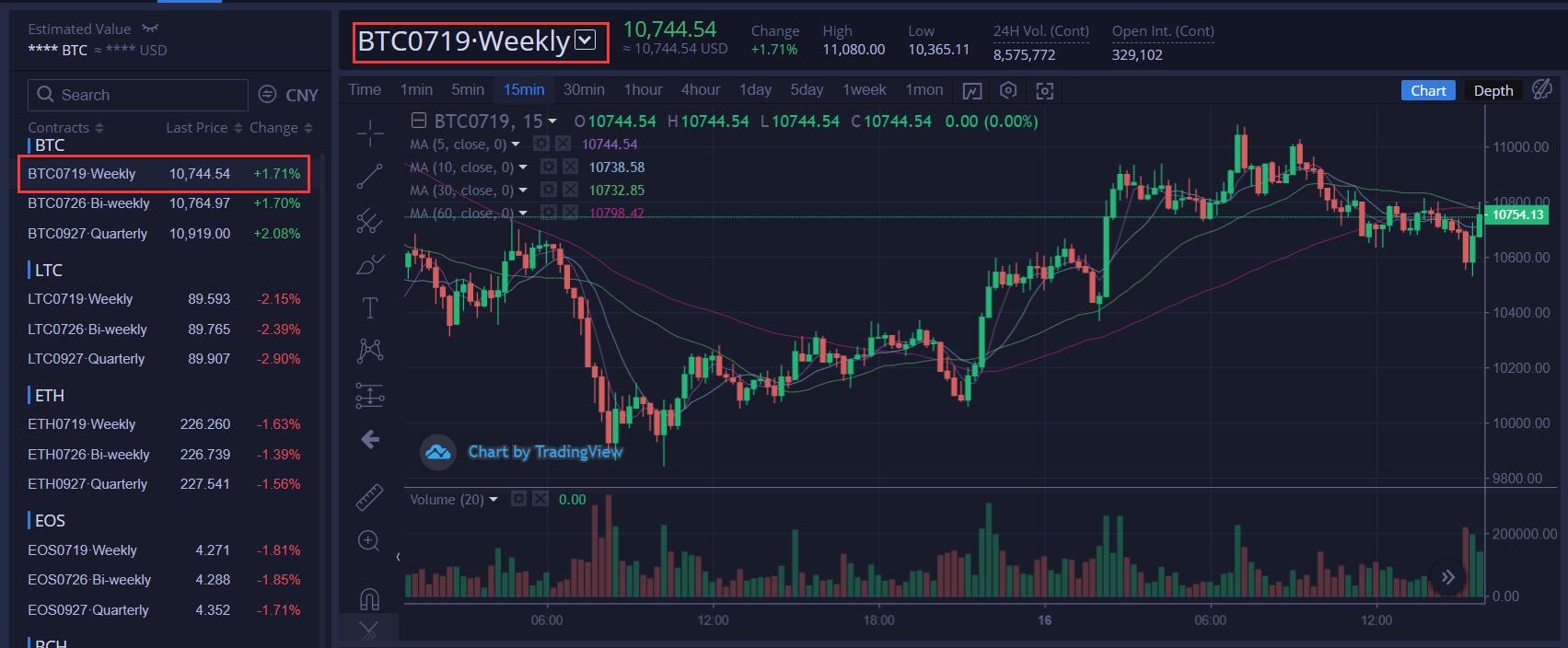 8. After choosing leverage, users can select limit price order or BBO price order to open positions. If bullish on market, users can open long. If bearish, users can open short.
① Price limit order: enter price and amount of contracts you want to place orders, or select orders of BBO price/optimal top 5 price to place orders (only need to enter amounts of contracts you want).
② Trigger order: enter trigger price, order price and amount of contracts to place orders. More details please refer to 【Trigger order operation user manual>>>】
③Advanced Order:Post-only orders are limit orders that are only accepted if they are not immediately executed. If the match system filled the Post-only order, the order will be automatically cancelled as to help users place maker orders only. Please note the position limit applies to the Post-only orders but there is no order limit for Post-only orders.
Advanced limit order function is available on Huobi DM now. Currently, the advanced limit order of the Web and APP terminals only supports the Post only type. But more options will be added in the future.
Example:
Assuming that the last price of BTC quarterly contract is 10000USD and the ask 1 is 10000.1USD in order book. If a user wants to earn maker rebates and enjoy maker preference, he can choose Post-only option to place maker orders with advanced limit order function. If he sets 10000USD as bid price, the order will not be executed, which means he placed a Post-only order successfully. Whereas, if he sets 10001USD as bid price, the order will be filled by match system but the advanced limit order function will cancel the order immediately so as to help him place maker orders only.

9. Users can find filled orders in Open Positions, and unfilled orders in Open Orders which can be withdrawn before filled.
10. When come to close positions, you can also select limit price or BBO price to close long/short positions. 【Learn more about Flash Close>>>】
11、Click the "Information" on the left top of navigation bar to check "Delivery and Settlement","Insurance Fund", "Long/Short Ratio", etc.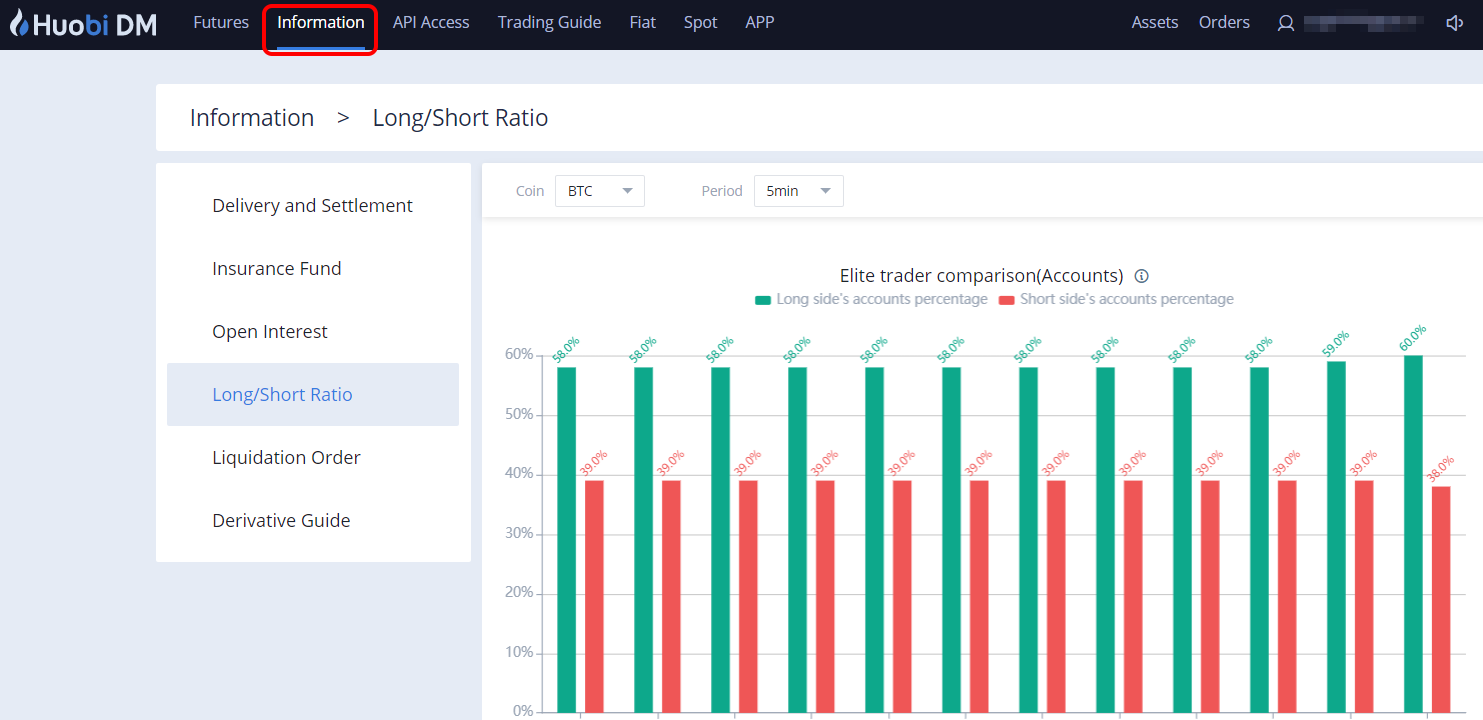 12、Please click "Assets" on the top right of navigation page to check account assets of different contracts,and click "Transaction Records" to check transaction records of different contracts in the last 3 months.
13、On the top right of "Order" navigation page, Please click "Order History" and "Transaction History" to check orders and transaction histories in the last 3 months.
14、At the "Personal avatar" that top right corner of the page, click "My Data" to view the "Transaction Data", "Transaction Limit", "Fee Rate" and other information of the account.
Join in us
WeChat:dm19166 ,dm19416
QQ Group:936093939
Telegram:https://t.me/huobidmofficial