Ⅰ Summary Statistics
Relative to November, Huobi enjoyed a month-on-month 12.73% decline in aggregate trading volume (Huobi Global & Huobi DM) in December 2019, followed by a 65.43% relative increase in January 2020.
Ⅱ HT Price Performance in January
HT/USDT Price Rose 24.1%
| | |
| --- | --- |
| Start of Month | 2.7452 USDT |
| End of Month | 3.4057 USDT |
| Latest Price | 5.0186 USDT |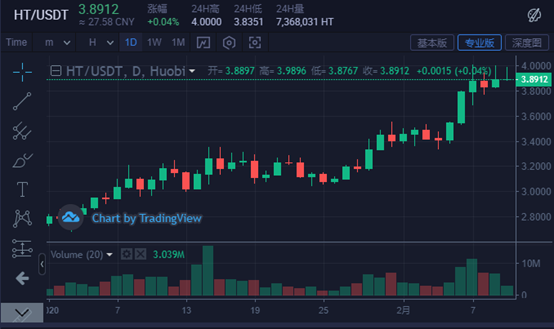 HT/BTC Price Dropped 4.34%
| | |
| --- | --- |
| Start of Month | 0.00038157 BTC |
| End of Month | 0.00036499 BTC |
| Latest Price | 0.00049038 BTC |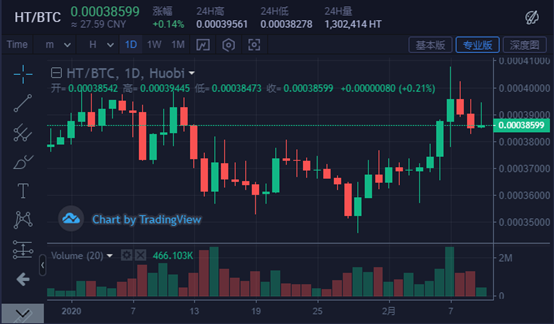 Ⅲ Overview of HT Key Activities In January
1. HT token burn cycle will be adjusted from quarterly to monthly from January 2020, and a dedicated page will be shown on the official website to display destruction results. This will help users to understand the operations of Huobi Global timely, further improve the transparency of HT burn, and increase the community's confidence in HT. A total of 4.0568 million HTs were burnt in January, and results will be updated on the token burn history log page on February 15, 2020. As of February 15, 2020, the total number of HT that Huobi Global burnt is 45.8378 million.
2. Added HT to the Huobi VIP Structure . HT has been incorporated into the Huobi VIP Structure in January 2020. Holding HT can generate Huobi EXP value, accelerate the process of becoming Huobi VIP, and enjoy exclusive services.
3. Steadily promoted the construction of ecological scenarios. The HT Dust Sweep function of Huobi Global has been launched on the website on January 16, 2020 (the APP version will be launched later), to achieve a more convenient and fluent exchange of small balances with HT.
4. Launched more enterprise application channels. HT holders can use HT to book 2 million hotels in over 90 thousand destinations on Travala.com and enjoy a up to 40% discount from January.
Ⅳ Recent Group Events
1. In the past month, the sudden outbreak of NCP has been the concern of the Central Government and the people of all ethnic groups in China. Huobi Charity announced a donation of 10 million RMB for global procurement of medical supplies. As of the beginning of February, 600,000 sets of protective supplies, 1,000 oximeters, and 9 tons of disinfection water had been transported to the epidemic area or in transit.
2. A wholly-owned subsidiary of Huobi Technology (01611.HK), has joined the China Chamber of International Commerce as a candidate for standing director. China Chamber of International Commerce is one of the chambers with the largest number of members and the largest international influence.
3. Huobi Global was invited to the Davos World Economic Forum at January 19, 2020, and attended 26 important events. This Forum in Davos was attended by world political leaders, business leaders, economic experts and mainstream media executives and outstanding editors from 130 countries.
4. Huobi Global launched Huobi Brokerage, a cryptocurrency brokerage platform for institutional investors, in January.
5.HT was accepted as a donation currency by the world-renowned charity HOPE, which was established in 1958 and focuses on helping public environment and health issues.
V Upcoming Plans for HT
1. Huobi Chain Testnet will be launched in the near future. HT will form a new strategic layout in conjunction with the upcoming Huobi Chain and new rules. Please stay tuned.
2. HBDM Perpetual Contract has begun internal testing and will be launched in the near future. Perpetual Contract business will also be included in the destruction scope of HT. For specific methods and proportions, please refer to the announcement applied by Huobi Global before.
3. In order to meet the HT holders' margin trading needs, Huobi will launch HT margin function in March, with the initial leverage multiple set to 2 times.
4. The C2C lending function has entered the development phase, and internal testing will start in March. Once launched, those who meet the HT holding requirements can lend assets such as BTC and USDT with certain interests.
5. To further expand the ecological scenario of HT, HBDM will support HT as an asset collateral soon, and will launch HT pledged loan contract assets for low-risk users.
6. To accelerate progress in corporate applications and expand ecological partners such as international credit cards, digital bank cards, large Internet companies, and mass entrepreneurship centers.
7. Huobi Pool will commence support for one-click exchange of HPT airdrops for HT in February 2020, and the HT Dust Sweep on APP will be launched in March 2020.
Huobi Global
February 15, 2020